It is estimated that 30million human sex slaves are alive on earth right now, 60 000 in the USA, and most of us have probably never seen or heard of any of them.
The average price of a slave has decreased during the past 200 years, according to Kevin Bales, a leading abolitionist who has written several books about modern-day slavery.
In 1809, the average price of a slave was $40,000 when adjusted to today's money. In 2009, the average price of a slave was $90, Bales says.
Slavery still exists. Of that there isn't much dispute, if any. But how widespread is what many experts call modern-day slavery?
Estimates range from about 10 million to 30 million, according to policymakers, activists, journalists and scholars.
The International Labour Organization, an agency of the United Nations that focuses on, among other things, labor rights, put the number at a "minimum estimate" of 12.3 million in a
2005 report
.
Kevin Bales, a sociologist who serves as a consultant to the United Nations and has authored several books about modern-day slavery, estimated the number was 27 million people in his book "Disposable People: New Slavery in the Global Economy." The book was published in 1999.
There is yet another estimate. Siddharth Kara, a fellow on trafficking at Harvard University and also an author, recently told CNN that his calculations put the range between 24 million and 32 million. That number was current as of the end of 2006, he said.
There are several reasons behind the variance in numbers, said Ben Skinner, who published a book about modern-day slavery – "A Crime So Monstrous: Face-to-Face with Modern-day Slavery."
"There are two big problems with the count," Skinner, a Senior Fellow at the Schuster Institute for Investigative Journalism at Brandeis University, said during a telephone interview. "The first is that the people we are counting are, by definition, a hidden population.
"The second problem is more of a theoretical one where the definitions are not in place. We don't have a common definition still as to what slavery is."
http://thecnnfreedomproject.blogs.cnn.com/category/the-facts/the-number/
Slavery is a legal or economic system under which people are treated as
property
.[1] Though laws and systems vary, as property, slaves may be bought and sold. Slaves can be held from the time of their capture, purchase or birth, and deprived of the right to leave, to
refuse to work
, or to demand
compensation
. Historically, slavery was institutionally recognized by most societies; in more recent times, slavery has been outlawed in all countries, but it continues through the practices of
debt bondage
,
serfdom
,
domestic servants
kept in captivity, certain adoptions in which children are forced to work as slaves,
child soldiers
, and
forced marriage
.[2] Slavery is officially illegal in
all countries
, but there are still an estimated 20 million to 30 million slaves worldwide.[3][4]
Mauritania
was the last jurisdiction to officially outlaw slavery (in 1981/2007), but about 10% to 20% of its population is estimated to live in slavery.[5][6]
Slavery has existed before written history and has existed in many
cultures
.[7] Most slaves today are
debt slaves
, largely in
South Asia
, who are under
debt bondage
incurred by
lenders
, sometimes even for generations.[8]
Human trafficking
is primarily used for forcing women and children into
sex industries
.[9]
http://en.wikipedia.org/wiki/Slavery
Moulin rouge and the glamourization of sex slavery and brothels
History of the Moulin Rouge
In October 1889, Paris was all abuzz concerning the opening of a new music hall. The owners of this new establishment, Joseph Oller and Charles Zidler, who had chosen the name Moulin Rouge (Red Mill) for their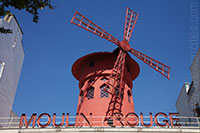 theatre, gave it the nickname "Le Premier Palais des Femmes" (The First Palace of Women) and claimed that Moulin Rouge would soon become "a temple of music and dance".

Moulin Rouge quickly gained a reputation for being the place where men could view young Parisian girls whose unique and amazing dance moves were as flexible as their morals.
And though the famous Can-Can dance had been present in working class ballrooms since the 1830s, the early days of the Moulin Rouge cemented its popularity, though during the first few decades that the establishment was open, it was little more than a bawdy dance performed by courtesans to entertain their male clientele. At times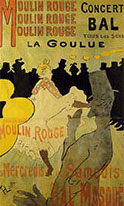 Moulin Rouge Poster
from 1891 by
Toulouse-Lautrec
it was downright vulgar and what went on inside the Moulin Rouge caused much public outrage!
In later years, the establishment cleaned up its act (so to speak), eventually lost its reputation as a brothel, and became a fashionable music hall known for its extravagant cabaret shows, attracting a high-class clientele.
http://www.aviewoncities.com/paris/moulinrouge.htm
This map shows where the world's 30 million slaves live. There are 60,000 in the U.S.
We think of slavery as a practice of the past, an image from Roman colonies or 18th-century American plantations, but the practice of enslaving human beings as property still exists. There are 29.8 million people living as slaves right now, according to a
comprehensive new report
issued by the Australia-based Walk Free Foundation.
This is not some softened, by-modern-standards definition of slavery. These 30 million people are living as forced laborers, forced prostitutes, child soldiers, child brides in forced marriages and, in all ways that matter, as pieces of property, chattel in the servitude of absolute ownership. Walk Free investigated 162 countries and found slaves in every single one.
But the practice is far worse in some countries than others.
The country where you are most likely to be enslaved is Mauritania. Although this vast West African nation has tried three times to outlaw slavery within its borders,
it remains so common that it is nearly normal
. The report estimates that four percent of Mauritania is enslaved – one out of every 25 people. (The aid group SOS Slavery, using a broader definition of slavery,
estimated
several years ago that as many as 20 percent of Mauritanians might be enslaved.)
The map at the top of this page shows almost every country in the world colored according to the share of its population that is enslaved. The rate of slavery is also alarmingly high in Haiti, in Pakistan and in India, the world's second-most populous country. In all three, more than 1 percent of the population is estimated to live in slavery.
A few trends are immediately clear from the map up top. First, rich, developed countries tend to have by far the lowest rates of slavery. The report says that effective government policies, rule of law, political stability and development levels all make slavery less likely. The vulnerable are less vulnerable, those who would exploit them face higher penalties and greater risk of getting caught. A war, natural disaster or state collapse is less likely to force helpless children or adults into bondage. Another crucial factor in preventing slavery is discrimination. When society treats women, ethnic groups or religious
minorities as less valuable or less worthy of protection, they are more likely to become slaves.
Then there are the worst-affected regions. Sub-Saharan Africa is a swath of red, with many countries having roughly 0.7 percent of the population enslaved -- or one in every 140 people. The legacies of the transatlantic slave trade and European colonialism are still playing out in the region; ethnic divisions and systems of economic exploitation engineered there during the colonial era are still, to some extent, in place. Slavery is also driven by extreme poverty, high levels of corruption and toleration of child "marriages" of young girls to adult men who pay their parents a "dowry."
Two other bright red regions are Southeast Asia and Eastern Europe. Both are blighted particularly by sex trafficking, a practice that bears little resemblance to popular Western conceptions of prostitution. Women and men are coerced into participating, often starting at a very young age, and are completely reliant on their traffickers for not just their daily survival but basic life choices; they have no say in where they go or what they do and are physically prevented from leaving. International sex traffickers have long targeted these two regions, whose women and men are prized for their skin tones and appearance by Western patrons.
http://www.washingtonpost.com/blogs/worldviews/wp/2013/10/17/this-map-shows-where-the-worlds-30-million-slaves-live-there-are-60000-in-the-u-s
I said to myself, "God will bring into judgment both the righteous and the wicked, for there will be a time for every activity, a time to judge every deed."
Ecclesiastes 3:17
by Rijamekee Veii